Drive your business
with WhatsApp
The business world has come a long way since "sell me this pen." Our expectations from effective marketing? Not so much. The pen remains iconic because it never was about the pen, but what it meant to the person you wanted to sell it to. Personalization is the name of the game, and in today's world, your marketing efforts really have to go beyond that stray boosted social media post to make an impression on your audience. So how do you do that? And how can you offer this experience to each of your valued customers? The answer is almost deceptively simple — get onboard the world's favorite messaging application, WhatsApp.
More than a fourth of the world uses WhatsApp to communicate with their family and friends every day. Customers today expect a similar level of rapport with their preferred brands. WhatsApp Business can help you achieve that and be at the top of their minds in many ways.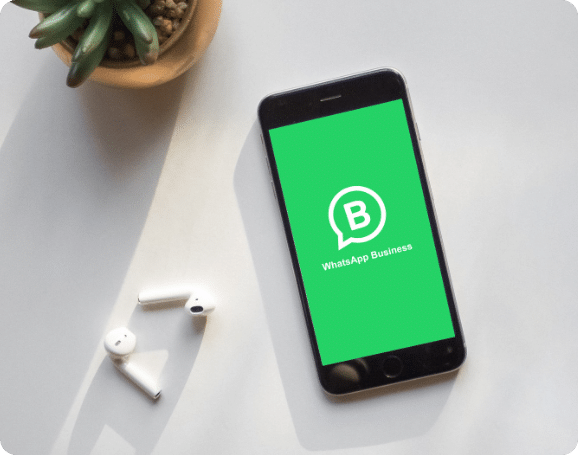 So, what's all the fuss
about WhatsApp Business?
And in this regard, WhatsApp's appeal is undeniable.
It allows a safe and secure channel to connect you with your customers instead
of forcing them to come looking for you. It supports messaging in rich media formats, unlike SMS that's largely limited to text. It is free to download and use for the most part. Besides, it's a given that almost all your customers are already on the platform and know how it works.
Alright, if that didn't pique your interest, there's more. It verifies your identity and offers you the value of trust. How? Once your business profile is approved, WhatsApp gives you a verified tag, so your customers can be certain of who they're chatting with. To not be stuck in the ocean of alphanumerics in your customers' inbox is reason enough, yes? We thought so. It also paves your way for conversational commerce, which is all the rage in customer support right now.
Why should you care about
conversational commerce?
Because customers no longer want to be sold to. They seek help with solving their problems. They partner with brands that share their values. They care about personalized suggestions. None of these are "buy my products, buy more of them." Conversational commerce, also called conversational marketing, goes beyond traditional marketing tactics by replicating a human-like conversational exchange with each unique customer in the digital space. And in the mobile generation, what better channel than WhatsApp for that?
Conversational marketing isn't interested in outright selling your products or services, but creating the conducive setting that compels your users to buy from you. So, when a user WhatsApps to cancel an appointment, you can subtly direct them to your nearby slots for a reschedule. Or when they check your availability on an off day, you can upsell by telling them about your 1+1 offer on Tuesdays. This elevates the experience from the impersonal shop front display mode that your website homepage provides to a one-on-one conversation with your shop assistant.
On top of that, you can shift all your communication and promotions to this channel. Want to help users track their bookings? Want to send out an appointment reminder? Want to notify them about an upcoming offer? Just WhatsApp them.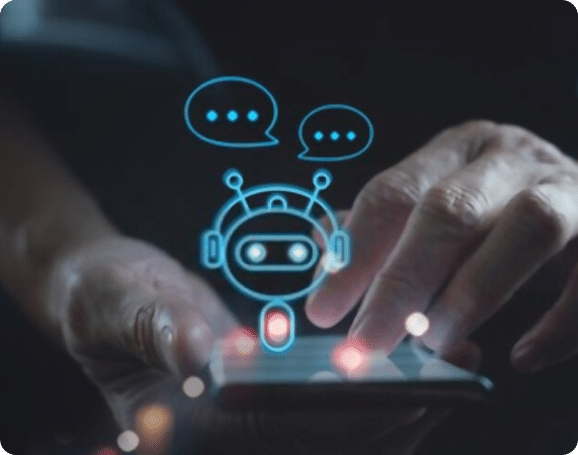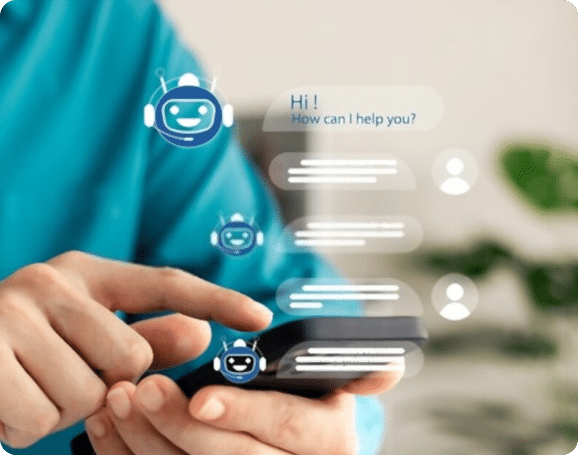 Reap the benefits of
two-way conversations
A two-way conversation is a real conversation. Users aren't just picking one of the four options. They are asking questions, requesting help, raising complaints, and sharing feedback the way they would if they met a representative at your store.
Further, the WhatsApp advantage is two-fold with an AI integration. It's one of the top channels of choice for most customers, and natural language phrasing instead of hard-coded commands makes the conversation more delightful. WhatsApp automation thus becomes your best way to facilitate real conversations 24/7 without relying on human intervention.
Besides, you can't sell the pen to someone who doesn't want a pen anyway. No amount of discounts or offers can convert them. A conversation with an intelligent chatbot, on the other hand, helps you assess whether you have a qualified lead or not, following which you can use suitable strategies to guide the prospect through your funnel. Deceptively simple, we know.

The easiest way to hook in
your business with WhatsApp
Global presence, free download, easy accessibility, and familiarity make WhatsApp the best platform to connect your customers with you. And with Concerto WhatsApp integration, your WhatsApp store will be up and running in no time. The no-code setup is easy to manage and update with little to no technical know-how. If you already have a Concerto console, your WhatsApp channel will simply be added to your existing inbox. So you can manage the messages and get your analytics on the same dashboard. You can also link to your previously uploaded knowledge base, thus simplifying the process further. Ready to be at the fingertips of your customers? Ping us for a demo!