Pre-packaged
conversation modules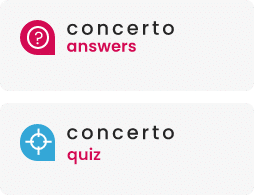 Customer: Fortune 10 Company
E-commerce giant boosts
operational efficiency with Concerto AI
This e-commerce favorite promises India to bring its stores to our doorstep. With over 4.5 lakh shipments every day, it's safe to say it delivers on the promise. But managing last-mile deliveries is no walk in the park - unresponsive customers, wrong delivery addresses, customers declining packages, and unpredictable weather conditions can wreak havoc at any moment. To guide and assist delivery executives through such uncertainties, this Fortune 10 firm put together support teams on standby across the country. And since uncertainties are aplenty during deliveries, as in life, it translates to a few thousand calls, every day.
With Concerto's Support Assistant, they're scaling new heights. The reliable buffer between the support team and delivery executives ensured the latter simply had to open the voice portal and ask a question. The assistant not only understands common natural language terms pertinent to agent queries in Hindi and English but also handles mispronunciations and abbreviation errors to accurately respond to a multitude of questions.
Concerto Assistant helps
take on the pandemic
When COVID-19 hit and the world was crumbling, e-commerce companies stepped in to serve consumers better than ever before. The stats clearly speak for India, the fastest-growing e-commerce market of 2020. It's no surprise then that everybody's go-to online shop in the country saw a steep rise in usage, and in turn, deliveries. This also meant the support teams at its contact centers were maxed out.
The company rose to the challenge, envisioning a solution using its existing voice platform. Apart from the primary goal of reducing the delivery executives' dependency on support staff, it also wanted to facilitate the onboarding and training of its innumerable recruits. For a company that meets its consumers every day via scores of different individuals, having and following protocols that upheld the organizational values was a must-have.
Concerto Support Assistant was tailored to meet these requirements to a T: an AI-powered voicebot that accurately answers common questions, understands user intent by ignoring speech errors, and interprets context to suggest the best solution.
Automation that affords
process improvements
With great goals comes great responsibility. Both the support team and Concerto fully understood that for this solution to work, it had to be effective at scale. Our spidey senses (and industry knowledge) told us that one thing mattered the most: accuracy.
First things first, we spent the initial days defining the most common use cases based on historical data. This content was then fine-tuned by incorporating synonyms, domain-specific terms and abbreviations, and alternate spellings and utterances. Following this, we added more training content and new flows that were identified over time.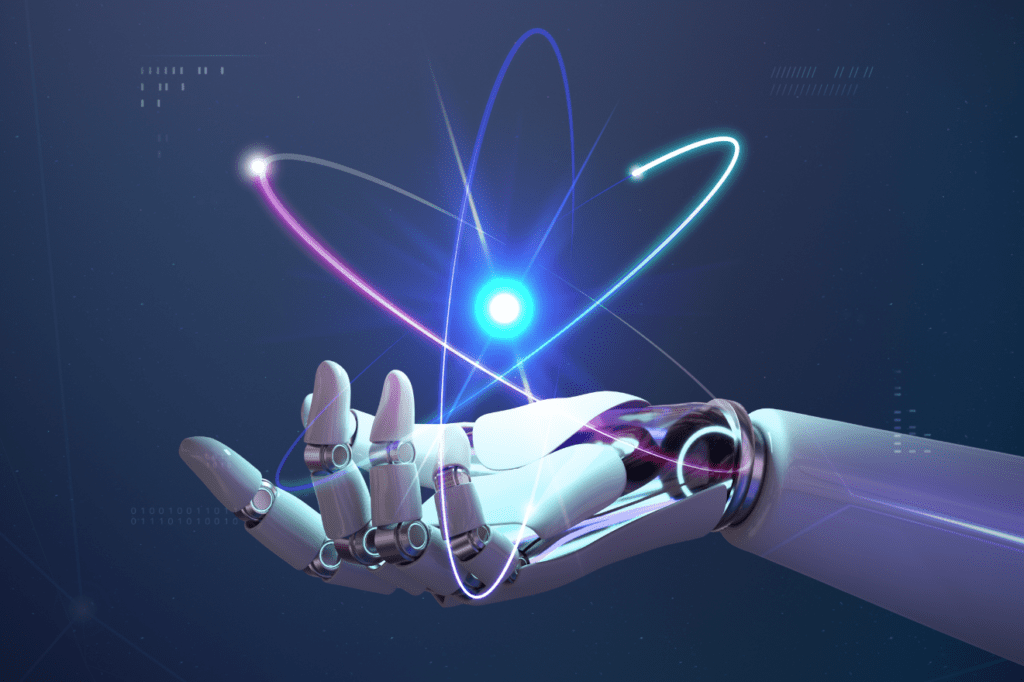 We saw a noticeable drop in call volume within the first few weeks of implementation. Delivery executives embraced Concerto Support Assistant, asking multiple types of questions, often a number of times, for training purposes. This freed the support team to focus on improving the content and making more information easily accessible.
Setting up voice
for two languages
Other than the conversational ease and accuracy, a big factor for Concerto Support Assistant's success was its bilingual capabilities. As no matter how wonderful a solution is, accessibility is everything.
To help the e-commerce major smoothly achieve its multilingual goals, the assistant was deployed in English and Hindi, two of the largest spoken languages in India. We put together a robust backend system that efficiently interpreted user intent. This ensured that once the delivery executives invoked the assistant in their preferred language, they could easily find answers, no matter how the query was framed.
To continually improve things, the support staff now regularly update the content based on the questions that delivery executives ask while out in the field. This is super quick and easy to do as the Concerto admin console is a no-code solution. Additionally, there is no need to republish or recertify the content, so all changes are reflected in real-time.
Boosting efficiency to build
a dynamic work environment
Enabling people to do their best work is central to the e-commerce giant's philosophy. The support team is no longer stuck repeating the same answers a few thousand times to assist their delivery team. Instead, they now review and refine their training tools.
The data began to measure up within the first few weeks, and now, a little over six months, Concero Support Assistant has answered upwards of 1.5 million questions! That's more than 20,000 interactions every day, at an accuracy rate of no less than 90%. What's more, with the training module successfully moved to the assistant, the overhead of regularly training the latest recruits has been cut down significantly.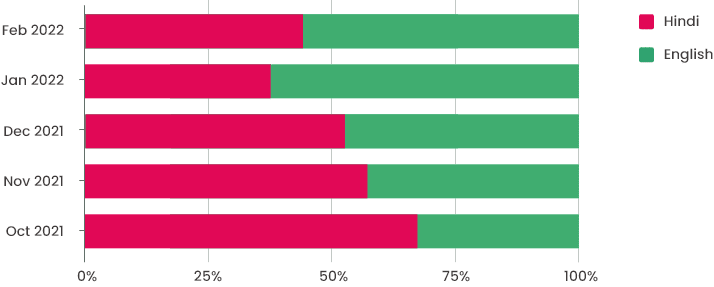 Adoption of Hindi version of the assistant over the months
It's also rewarding to watch delivery agents choose the Hindi version of the assistant, which currently receives over 60% of the total queries. Thrilled by the response and the success of the project, the company is now expanding it to eight other countries in languages including Spanish, Portuguese, and Arabic.
Enriching the work experience and empowering its teams to help each other, progress for this MNC means molding a work environment that supports meaningful work.