Voicebots and their growing role
in shaping the customer experience
Imagine being in an emergency and calling a friend only to be told "this caller is busy, please try again later" over and over again. Instant loss of trust. The next time you need help, you'd probably hit every other number in your contacts list except that one. Unfortunately or otherwise, the same goes for customers. 32% of loyal customers swear to find a different brand after only one bad experience. Shocking? No. Disheartening? Definitely. But it's not all gloom and doom for businesses like you because the world is embracing quick chat where voicebots are carving themselves a niche. And there's much for you to gain in it.
Wait, but what exactly is a voicebot?
A voicebot is a conversational software that makes automated voice conversations possible. To do this, it makes sense of what customers say as they speak and shares a suitable audio response. Voicebots are powered by AI and make use of Natural Language Understanding (NLU) and Machine Learning (ML) models to simulate live conversations in real-time. This simply means that when customers call, your voicebot talks to them as your staff would. But there are no time restrictions and your staff won't be overloaded.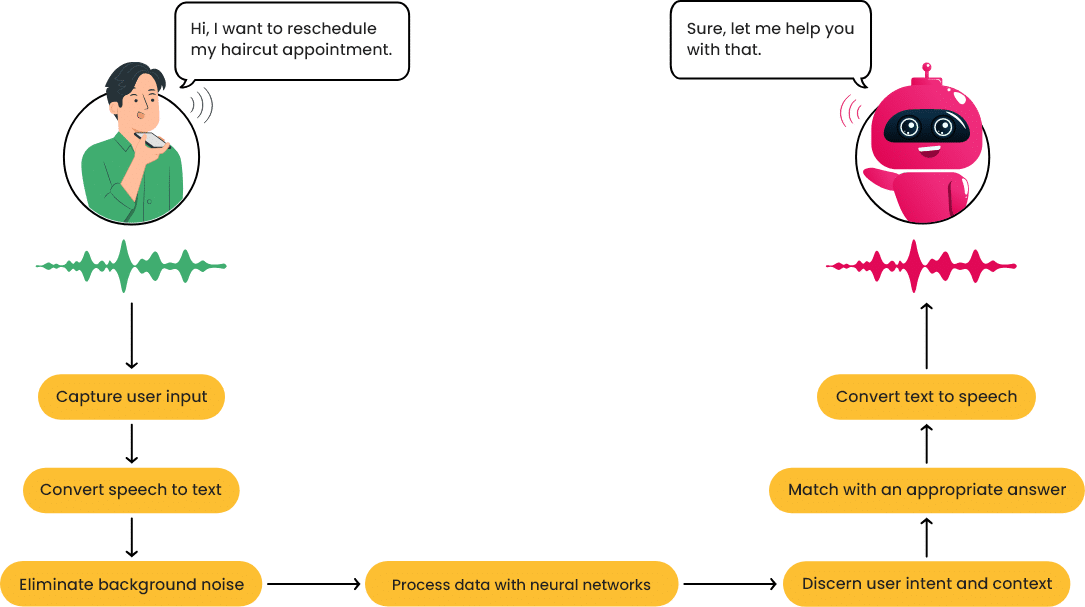 Compared to its lesser sibling, IVR, the voicebot is quite the charmer. No hard-corded flows or rule-based commands. So customers need not press digits on a keyboard to get things done. Voicebots also have the ability to distinguish between conversation types like questions, requests, and feedback to share relevant responses in simple everyday language.
How are voicebots different from chatbots?
The ultimate goal of AI assistants is to recreate the magic of human connection. And to that end, they use various ML models and NLP engines. But in the conversational AI spectrum, chatbots and voicebots have their own niche. What sets them apart is the way a user interacts with them. While chatbots use text-based channels like website chat interfaces, messaging apps, and smart assistants, voicebots employ voice-based channels like telephony and smart speakers.
Voicebots get extra AI juice in the form of Automated Speech Recognition (ASR) and Speech Synthesis. These are the factors that power them with human-like speech capabilities. ASR captures user input and converts speech to text to be processed by its NLP engine. Following this, speech synthesis allows sharing the correct response to the user in natural spoken language.
And why does the difference matter? It boils down to preferences, really. Imagine this. You've got two different issues at hand that you can solve with the help of an intelligent assistant. The first is to do with your car's servicing. You want to know if it's an issue you can fix by yourself and get step-by-step instructions to do it, if so. The second is about your health insurance where you want to know specific details of the scheme before signing up. In which of these cases would you pick a voicebot?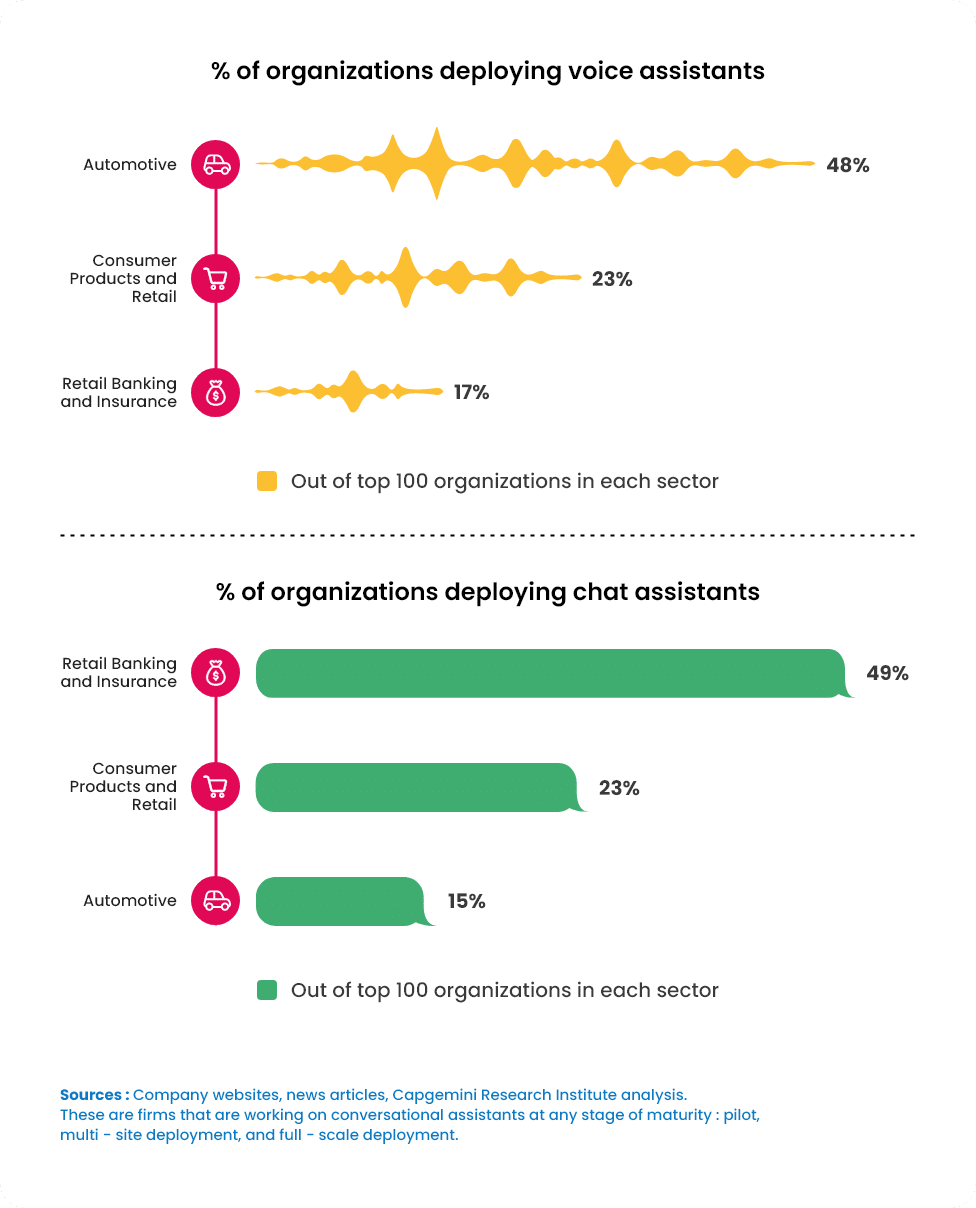 Research suggests that customers are a lot more comfortable talking about their automobiles and even troubleshooting those issues over voice. But for conversations that need them to be a little more present and process information in detail, they prefer using a chatbot. Knowing where in this compass your business lies will help model conversational solutions that drive great value for you and your customers.
Why businesses are embracing voicebots
With soaring consumer expectations, staying relevant in the market is no mean feat. But with AI, it gets a lot easier. Companies investing in AI don't just find themselves ahead of the curve but are also keeping their costs in check. Besides, the waiting game is tedious, inconvenient, and too often hampers the customer experience.
Capgemini's report has some exciting insights. 76% of businesses have gained quantifiable benefits from conversational AI, and voice is fast becoming a customer favorite across the board. Reading this along with Gartner's latest research makes all the more sense. 40% of all live requests can be addressed via self-service, and most customers are happy to make the shift. There's no big catch here. Customers only need to feel confident of making the right decisions. And voicebots are in a uniquely advantageous position to do just that.
Not only is speech the fastest and the most natural form of communication, it doesn't need us to pay full attention to the task. People are used to talking on their phones while going about their day. Simple activities such as rescheduling an appointment, clearing some service doubt, or confirming a store's location shouldn't force customers to make time for it. Neither should these be tasks take that up your employees' time when they could contribute in more crucial ways. With a voicebot answering your phone, you hit two targets with one arrow and enjoy all the perks that come with it.
So, what are some advantages of voicebots?
It's no surprise that some of the biggest names in business have already got their hands on voicebots. Walmart's "Ask Sam" helps its employees check out product prices and store locations. Nike's Nike Coach assists users find the perfect sneaker for their workout routine. And M1's Maxine supports its call center agents by improving the customer experience.
So no matter what your business specialization, the benefits of voicebots for you can be many. Here are some ways voicebots optimize business processes as well as enhance customer engagement.
Put customers first
Getting people on board voicebots is rather simple. Help them understand how to activate the microphone and when to start speaking, and they're good to go.
In fact, the learning curve for voice solutions when compared to figuring out website navigation or even typing out search queries is considerably lesser. As per a PWC  survey, 71% of Americans consider voice search to be a simple, smart, and fast way to find things online. Although driven by youngsters, the adoption of voice is universal among all age groups. As a result, voicebots open up a whole world of opportunities for businesses to elevate the customer service they offer.
Scale without the expense
While the phone continues to rule the customer service roost, closely followed by digital solutions, hiring staff for round-the-clock service is an expensive affair. Moreover, based on your business type, your live agents may be handling between 10 to 20 calls per hour. Rush hours may see these numbers spike, and in the absence of 24/7 support,  you might be missing out entirely on after-hours calls.
Voicebots have no limitations of that sort and can handle any number of customer calls at a time. They can take care of repetitive queries, manage bookings, and even supervise specialized tasks. You can also use outbound calls as a part of your campaigns and reach out to a good number of your customers easily.
Help support teams do their best work
In addition to being available 24/7, voicebots can remember details. So, if a caller wants to be transferred to an agent, the conversation need not start from the beginning. The assistant shares the conversation history to help the agent with the context. It saves time and effort both for the customer and your staff.  The same process is followed if a repeat customer calls. The assistant pulls up their details using simple identification data like a phone number or customer ID. Moreover, it reduces the support load nearly by half by enabling self-service.
Integrate with little effort
Voicebots seamlessly integrate with your existing customer service technology stack and telephony mechanism. You can either automate your processes completely or pick automation for select processes.
For partial automation on telephony, link your existing IVR system to a voicebot. So when a caller rings up, the voicebot can handle FAQs and account information while agents take up specialized tasks. For a well-rounded automated experience, hand over your business phone to the voicebot that begins by greeting the caller. In either case, the voicebot will be able to hand over the conversation to a live agent with full history, if needed.
Keep improving over time
The best thing about AI is its ability to be trained for perfection. Each conversation is a data goldmine. All the collected data is stored and passed through the AI networks to derive actionable insights. Insights on trending products, top-of-the-mind questions, popular services, etc. can help inform your communication strategy.
Further, you can analyze the voicebot's performance to know how well it's handling queries and where it's faltering. By making note of the areas of improvement, you can retrain it with more accurate information thus refining its responses. This way, the voicebot gets further optimized with each interaction.
A few ways to get started - voicebot use cases
While tons of repetitive processes can be automated with voicebots, that's not all you can do with them. A well-designed voicebot is capable of handling some very complex tasks. In industries ranging from e-commerce to wellness and hospitality, they have a wide range of applications. Here are a few you can begin with.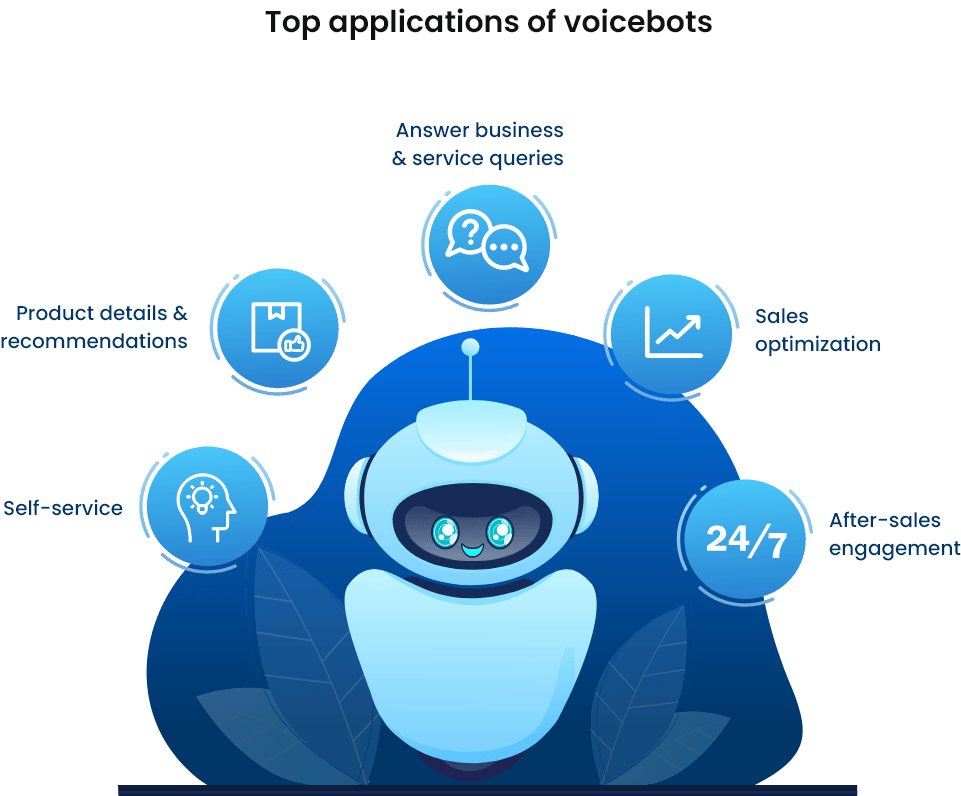 Self-service
When customers call, assist them immediately to explore your services and complete actions. Be it a simple location query or something more personalized like updating their account details, they can do it with no qualms. Easily define flows for scheduling appointments, answering FAQs, raising complaints, sharing feedback, and more to simplify customer interactions and empower users for self-service.
Product details and recommendations
Voicebots can help customers make the right purchase decisions. You can educate users about product features, applications, price, delivery timeline, and more. Want to deliver a little more value? Add a  recommendation engine to your voicebot. Collect user preferences, needs, and specifications and help them find the most suitable product.
Answer business and service queries
You don't want your front desk staff to be stuck on calls every 10 minutes, repeating that you're open on Sundays. By automating FAQs, many repetitive queries can be handed over to the voicebot. The best part? Customers get all their answers and an experience similar to that with a live agent.
Voicebots are designed to hold natural human-like conversations. Even when users deviate from the expected conversational flow, it won't break. It even distinguishes between similar-sounding questions by narrowing down the context. Thus it does a good job answering any query related to your location, business, products, or services, and even repeats answers on demand.
Sales optimization
Who doesn't want to sell a little more? Voicebots can support sales in a few crucial ways. Start with guiding your prospects with the right information. During the purchase journey, it can subtly cross-sell products by sharing relevant add-ons and upsell when opportunities come up. Further, it helps qualify high-quality leads and transfers them to related sales teams.
After-sales engagement
According to research, acquiring new customers costs anywhere between 5 and 25 times more than retaining existing ones. With voicebots, you can keep in touch with your customers even after a sale by sharing delivery updates and collecting feedback. You can also include personalized promotions. This helps leave a great impression on customers and build a healthy relationship with them.
Voicebots make collecting and storing feedback super easy to be done on scale. Your representatives can then focus on improving your processes based on the data gleaned.
Enhance your customer experience
with Concerto AI's best-in-class voicebots
In short, voicebots can boost your business capabilities, improve your processes, and engage your customers better. But building a voicebot that is true to your brand and understands your customer requests contextually is a feat only an expert can nail. At Concerto, we've got an AI super team. Our domain specialists designed our AI and NLP framework using their extensive knowledge of ML models. The result is a user-friendly solution you can implement right away.
And what makes Concerto SmartAssistants top-notch?
No-code solution that helps you implement your voicebot quickly and have the competitive edge of rolling out regular content updates without external tech support.
Prepackaged conversation modules

you can plug and play for your specific domain with datasets that are vetted and optimized for great results.
Deep neural network

that accurately dissects user queries to understand their intent and context and respond with the most appropriate answers every time.
Omnichannel capabilities

allowing you to integrate easily with your existing telephony, IVR, or smart speaker systems.
Custom reports

that let you track the performance of your voicebot to spot areas of improvement and make required content updates regularly.
User-friendly dashboard which enables intuitive navigation through the interface as you update content, manage conversations in the inbox, track KPIs, or download reports.
Are you ready to transform your business possibilities with the power of voice? Drop us a line at contactus@concerto.ai today!