Pre-packaged
conversation modules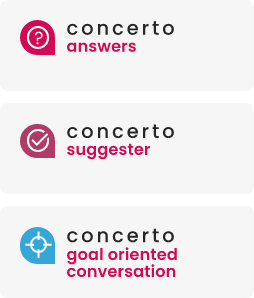 Customer: Fortune 10 Company
Helping a global tech leader automate
intern onboarding with conversations
A fortune 10 company, a two-month long intern hiring season, thousands of new recruits, a deluge of support calls and mails, a team constantly trying to keep up the energy and empathy meter — all the elements for a potential comedy of errors, saved every year solely by the grit and multitasking abilities of the company's recruitment team. But in the hiring season of 2020, they decided to do things a little differently.
This global tech leader employed Concerto's Pre-packaged Conversational Modules to tie together the loose ends of its existing channel on Alexa and to make life easy both for its employees and thousands of its new interns seeking answers.
Working closely with the company, we customized multiple components of the Conversational Modules to make for a smooth and efficient voice-only system. This tailoring is testimony to the immense flexibility of Concerto solutions. Concerto Answers facilitates responses to diverse intern queries by effectively handling context switching, while Concerto Goal-Oriented Conversations and Concerto Suggester turn the hiring assistant into a full-fledged, user-friendly tool helping interns find expert help real-time and in one place.
Narrowing the gap between
questions and answers
There will be questions. Difficult ones, frequent ones, I-need-to-know-right-now ones. The first thought for a new intern is to dial up the help centre, or if time constrained, to drop an email hoping for answers in the next 24-48 hours.
The trouble is, the hiring team is packed with everything from collecting candidate requirements to conducting background checks, but come March, they need to brace themselves for the inevitable mailstorm from new interns. Every day, for the next few weeks, they receive scores of emails and calls, requesting information on a number of key categories. Meeting individual requests is both cumbersome and time-consuming.
Over the years, they have tried implementing multiple processes to tackle the situation but couldn't quite find a solution that would meet the challenge head-on without introducing new dependencies. Their own internal systems demanded some level of technical expertise, bringing them back to the manual process time and again. So when the executives started looking for a new system to manage interns, they wanted an easy-to-use solution that students could interact with on the go and the existing staff could manage without advanced technical know-how.
When team Concerto was approached with the ask, we knew we were taking on quite the challenge of building a voice-only platform to handle multiple complex tasks. But from the get-go, both the teams were on the same page. We wanted to build a user-friendly, future-proof piece of technology that could handle requests at scale.
Automation allows time to create
better opportunities for new hires
The intern hiring skill on Alexa soon became a repository of information for students that was regularly updated by the recruitment team based on changing user requests with time. And the best part? Unlike regular systems, Concerto's solution does not require them to recertify or republish the skill on Amazon every time they update the content. This means they can make changes real time, saving a lot of back and forth and time.
Additionally, the public skill was gated with an authentication code, a new functionality we developed for this project to allow access only to new hires with a relevant passcode.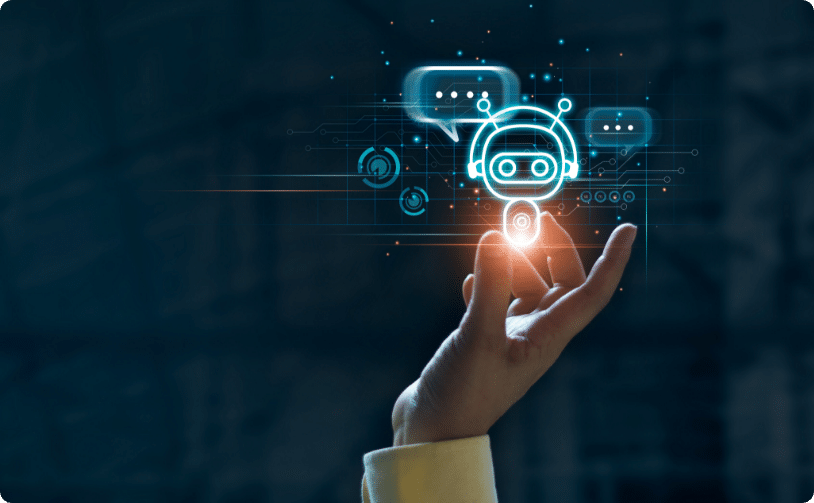 Behind the bespoke solution for this tech pioneer is Concerto's expertise, which made it possible for us to set up the system just a few weeks before the mass hiring program commenced. All processes in the checklist were handled adeptly including the smooth beta testing of the skill, speedy certification, and prelaunch support for interns.
Alexa, play 'how deep is your love'
As Concerto Hiring Assistant started handling queries via Alexa, we continued working behind the scenes with the recruitment team to regularly improve the system and to keep it up to date by managing the knowledge base and monitoring the assistant for unanswered queries. We frequently tracked the logs and tweaked the content to ensure high accuracy and tested all the new content before deploying them.
The company has big plans with the hiring skill, both in terms of expansion and execution. So, improving the skill meant one thing more than anything else: knowing from the end-users how well it helped them accomplish their tasks. A new feedback system was introduced to allow students to share their experience of the system and what improvements they expected.
With the Concerto Hiring Assistant, the recruitment team now feels a little like they have superpowers at their disposal. And they're putting it to good use. Not only are they working to make the system as foolproof as they can, but also devoting the extra time to help interns achieve more during their time with the global tech leader.