Pre-packaged
conversation modules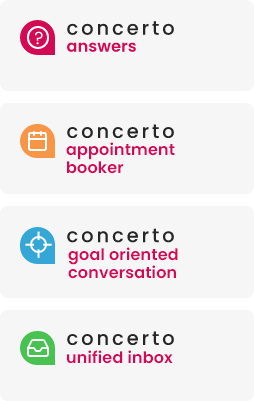 Customer: Marianne Strokirk Salon
Industry: Beauty & Wellness
Location: Chicago, Illinois
How Marianne Strokirk nurtured more meaningful customer interactions with Concerto's AI front desk
co-pilot
Key takeaways from our conversation with Alexandra Schuler, Managing Partner at Marianne Strokirk, an upscale salon in downtown Chicago known for its exceptional hair, skin, and nail services.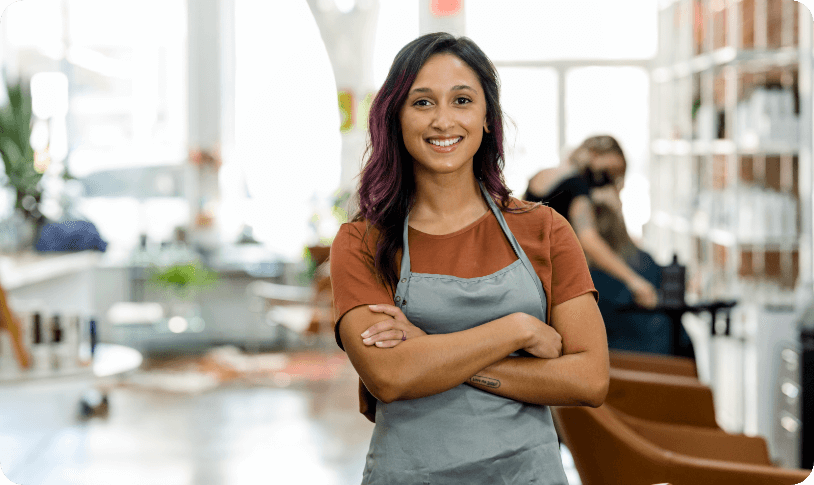 What Marianne Strokirk stands for
At Marianne Strokirk, everything we do stems from our commitment to our guests. We truly believe that it goes beyond simply ensuring they look their best — they should feel welcome and understood. It is a culture we've built over the years. While trends come and go, what people really want is to discover a true expression of themselves. Our mission is to make that journey easier by delivering a salon experience that is transformative, collaborative, and effortless. And Concerto's AI front desk co-pilot has been a tremendous addition as we work towards that goal.
Navigating our business challenges
"We are known for our thoughtful guest interactions and wanted to make sure that each of our customers got to experience it whether they visited us at our salon or on our website. They should feel welcome and understood. And all their questions should be answered, no matter the day or time. By making all that possible, I'd say, Concerto's AI Front Desk Co-pilot helped us extend our warmth beyond our salon doors and surpass time constraints." 
Leveraging technology to
realize our people-first vision
The famed Marianne Strokirk salon experience begins the moment a customer starts considering us for their service (which is before they even arrive at our doors). Right from the first time they reach us, we want them to feel heard. Our staff love guiding our guests through all the possibilities, and that's something I truly value about them. I had also started to see that it would help if I could take some responsibilities off their plates.
At Marianne Strokirk, we've always embraced new technology. It has helped us build a wonderful relationship with our customers and stay relatable to them. So, to assist our staff with repetitive front desk tasks, I had been looking into these new AI tools. It was important to us that as we automate certain aspects of work, our customers never felt any less cared for. Concerto's AI front desk co-pilot seemed like the perfect fit!
Why I am in love with
Concerto's AI front desk co-pilot
When I look at it from a customer's perspective, chatting with Concerto's AI front desk co-pilot is just like talking to one of our staff members. It is a simple, personalized conversation. There's no need to ask questions a certain way or use the exact technical terms we use at the salon.
I am so happy that it has saved our staff a great deal of time (and effort)! Our front desk staff really push themselves making sure the in-salon experience is top-notch while also constantly attending to calls and responding to messages on multiple devices. Concerto's AI front desk co-pilot has taken over some of these repetitive tasks that are crucial for our everyday operations. It has opened up our front desk to be more productive and supportive to both our guests and other staff.
And the results so far have been wonderful. Although we've only started using the platform, our customers seem to have embraced it. We're seeing the number of bookings shoot up every week. More than 25% of these are done after hours!
I love how this has been a collaborative experience. The team has been very forthcoming, helping us customize the solution for our salon. They took all our feedback seriously and have been proactive with their response. With their support, I really do see the front desk co-pilot making a big difference to us.
The way forward
I think Marianne Strokirk now has a clear advantage over other salons. We are engaging with our customers round the clock, in real-time, while speaking their language. I don't think we are talking about replacing humans here but using technology to allow ourselves to do more valuable work. And that absolutely resonates with us. I believe only businesses that adapt to the times can offer customers the kind of experience they expect. And customer expectations only move in one direction. With Concerto's AI front desk co-pilot, we can already see us syncing deeply with our customers. Our processes are a lot more streamlined now and it's helping our staff offer more value to our guests. It's only been a month since we implemented the solution and it's already brought in $10,000+ in revenue for our salon.
"I believe, technology that enhances human experiences is the way forward, especially in an industry such as ours. When we meet the expectations of our customers and staff and strive to go beyond them, revenue generates by itself. And for us, all parts of that is a win."